21 Jul 2021
Cohesity Is Once Again Named a Leader in the 2021 Gartner® Magic Quadrant™ for Enterprise Backup and Recovery Software Solutions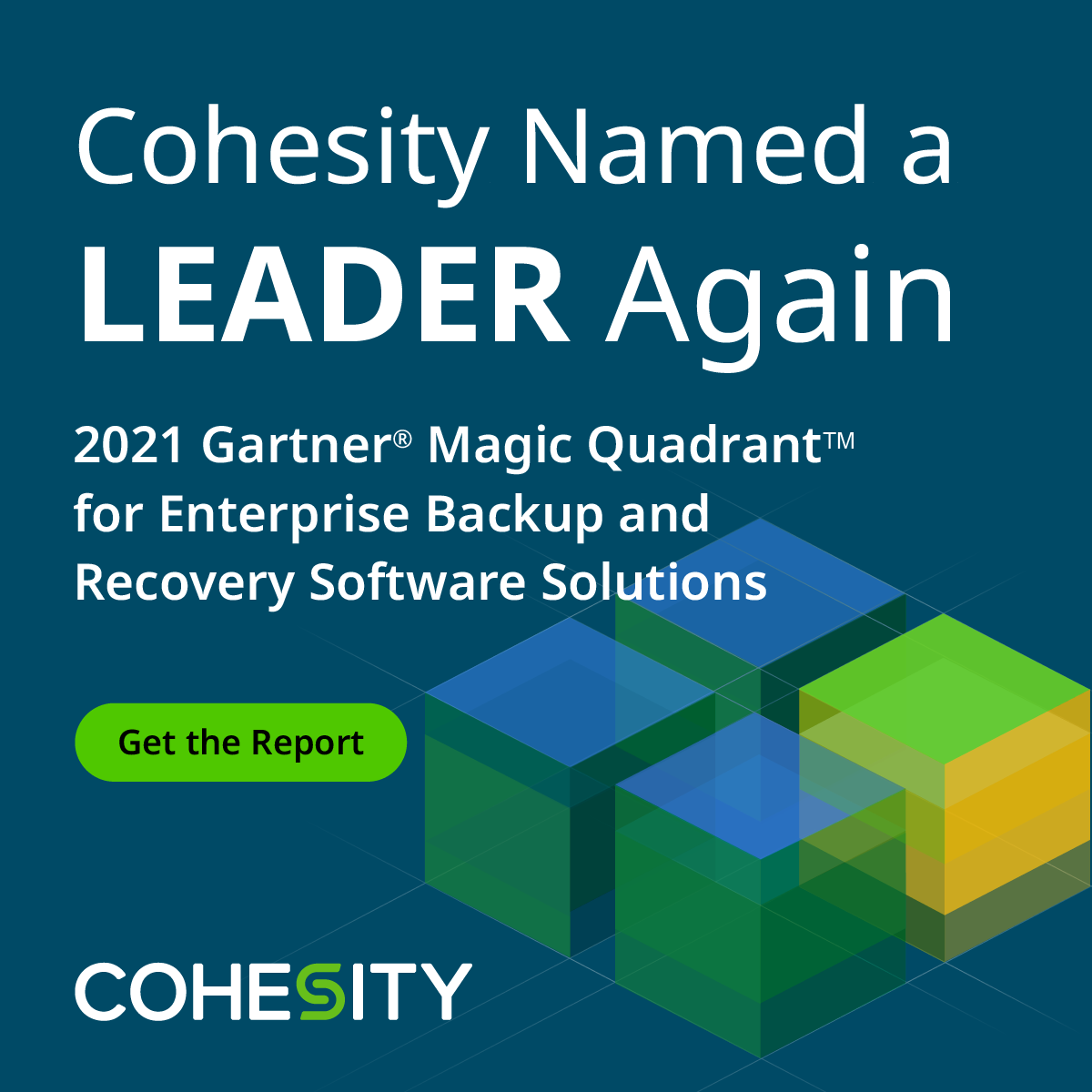 We believe being named a Leader in this report speaks to Cohesity's success in delivering next-gen data management, which starts with helping organizations protect their data and rapidly recover from ransomware attacks – critically important in today's world
Innovations That Solve Critical Customer Pain Points
Cohesity has maintained a rapid pace of innovation, focusing on building and delivering solutions that make data management simple to do and easy to scale while protecting data from ransomware attacks. Key breakthroughs introduced this year include:
Recovery and Protection From Ransomware: Organizations such as Sky Lakes Medical are benefitting from the tremendous value that Cohesity DataProtect delivers to customers via the company's multicloud data platform. Sky Lakes found Cohesity's immutable backup snapshots, WORM, and other built-in protections especially valuable when the organization was hit by a massive ransomware attack late in 2020. Cohesity's solutions helped Sky Lakes recover quickly from the ransomware attack – potentially helping to save lives – without requiring the company to pay a penny of ransom.
Backup as a Service (Baas): Cohesity DataProtect delivered as a Service is a SaaS offering that gives customers another easy way to ensure their on-premises and cloud-based data is backed up and protected. In just six months, Cohesity has expanded the workloads protected with this offering to include: Microsoft Exchange Online, OneDrive, SharePoint Online, and Teams, VMware, SQL Server, Amazon EC2 virtual instances and compute infrastructure and Amazon RDS cloud databases. Cohesity DataProtect delivered as a Service is available in the U.S., Canada, Europe, Australia, and New Zealand.
Automated Disaster Recovery: Cohesity SiteContinuity is integrated with the company's snapshot-based backup, continuous data protection, and automated failover/failback orchestration capabilities – making it the only web-scale solution to protect applications across tiers, service levels, and locations on a single platform. This helps address enterprise concerns about losing data to ransomware attacks, natural disasters, and human error. It also allows strict SLAs to be met.