13 Jun 2023
Hub 5 first to deliver self-hosted AI-powered digital workspace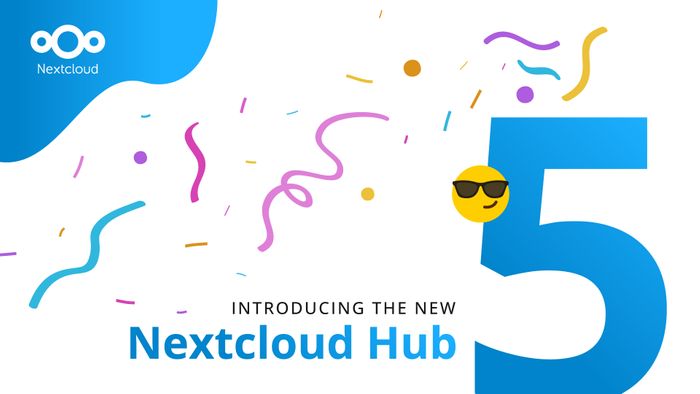 Ethical AI initiative delivers translation, dictation, video call transcripts and more without leaking data
Berlin, June 13 2023 – Through its Ethical AI initiative, Nextcloud is first to market with on-premises AI capabilities integrated in its digital workspace. With the tech industry scrambling to integrate artificial intelligence services in their products, governments and global firms are moving to block their employees and citizens from using these for fear of data leaks. Nextcloud Hub 5 is uniquely positioned to be the collaboration platform of choice for organizations dealing with sensitive data.
What do Goldman Sachs and Citi Group have in common with Samsung and Apple? They all ban the use of ChatGPT and other online AI products for fear of data leaks. This is entirely sensible, given the record of the companies offering these services. While AI offers incredible opportunities to improve the productivity of employees, the risks are equally large. I'm extremely proud that Nextcloud is the first in the industry to offer these capabilities without compromising the security and confidentiality of sensitive data.
— Frank Karlitschek, founder and CEO of Nextcloud GmbH
The Hub 5 release, available immediately, further integrates secure file exchange, video conferencing, groupware and office document editing around the concept of the digital workspace while adding flexible and privacy-protecting AI capabilities.
New and improved AI features include:
Smart Inbox in Mail and Related Resources
Face and object recognition in Nextcloud Photos
Background images in addition to background blurring in Nextcloud Talk
Image generation using Stable Diffusion
Translation with Nextcloud Translate, integrated in Nextcloud Talk and Nextcloud Text to translate your chat messages and text documents
Nextcloud Dictation for voice recognition integrated across Nextcloud Hub
Call transcripts of recorded video calls
These integrations are running entirely on the Nextcloud server without any data leakage to third parties. They are completely optional and can be installed from the Nextcloud App Store with one click by the administrator of the Nextcloud server. Nextcloud continues to develop on-premises alternatives for other AI features, with further updates expected later this year.
For those looking to use external, online AI services, this release also offers optional translation through Deepl and ChatGPT, DALL-E for image generation and ChatGPT for text generation. These features can be installed from the App Store. Hub 5 additionally provides an app that integrates GPTZero, an online service designed to detect AI generated texts.
To super-charge collaboration, this release allows administrators to assign a Groupfolder to a Circle, a custom group which can be managed by employees themselves. To make projects easier to access by employees, Groupfolders can now be found in the sidebar in Files and in the mobile applications. The Desktop client introduces fully automated file locking to ensure team members don't locally edit files simultaneously. Nextcloud Talk introduces breakout-rooms for brainstorming sessions or class room use, as well as a beta of an upcoming Talk Desktop Client for Windows, Mac and Linux.
To serve the needs of government and large organizations, Nextcloud Mail introduces S/MIME encryption and shared folders. The introduction of Nextcloud Tables enables our large customers to manage structured data locally, moving more of their online collaboration to Nextcloud and avoiding cloud services.
Our large customers, especially in Government, request secure, on-premises and enterprise-ready collaboration features. We developed Tables in a tight collaboration with several European Government organizations that are looking to retain their digital sovereignty and avoid getting their data pushed to a third party administered cloud service. Beyond this, close integration in Microsoft environments is a frequent request and with the new Outlook and Exchange integrations, as well as existing SharePoint, Windows Network Drive and Active Directory integrations we deliver on this need.
— Andreas Rode, CCO at Nextcloud GmbH
To further empower organizations in a mixed Microsoft environment, Nextcloud alongside its partner Sendent are unveiling a rewrite of the existing Outlook integration on Microsoft's latest platform. This update brings the Outlook integration to MacOS as well as the Outlook web interface. Further, the new Exchange Connector will enable customers to sync their Nextcloud Calendar and Contacts data with Outlook, giving their users a seamless experience between these applications. Finally, Microsoft Teams integration will make exchange of documents securely stored on Nextcloud through Teams chat easier.
Nextcloud Hub 5 is ready for use in environments that work with official security classifications like VS-NfD in the German Government. For this release, updated security capabilities are introduced, with Nextcloud's unique End-to-End encryption adding shared folders and upload directly into encrypted folders from a public File-Drop page. Support for the ICAP standard enables the integration of Data Loss Prevention tools and anti-virus applications. The new File Classification feature recognizes sensitive data like creditcards or identity numbers in documents and applies appropriate tags to the files. Based on these tags and with improvements to tagging and existing automation features and the File Firewall administrators can enforce security policies on documents.
For developers, Nextcloud Hub 5 introduces key features that make it easier to develop apps. The OpenAPI based documentation and the innovative OCS Viewer app make it easy to browse and even test out the Open Collaboration Services API Nextcloud supports for third-party application integration. The introduction of four Developer Toolkits for Rust, Python, TypeScript and Go dramatically ease development of integrations with apps using these languages.
With key AI features and major improvements to team collaboration, the Hub 5 release marks a major upgrade for the Nextcloud ecosystem. Users looking to deploy the new release can download the new version on nextcloud.com/download while existing users will receive the update over the coming weeks as part of the staged roll-out Nextcloud typically offers.
About Nextcloud
Nextcloud Hub is the industry-leading, fully open source, on-premises team productivity platform, combining the easy user interface of consumer-grade cloud solutions with the security and compliance measures enterprises need. Nextcloud Hub brings together universal access to data through mobile, desktop and web interfaces with next-generation, on-premise secure communication and collaboration features like real-time document editing, chat and video calls, putting them under direct control of IT and integrated with existing infrastructure.
Nextcloud's easy and quick deployment, open, modular architecture and emphasis on security and advanced federation capabilities enable modern enterprises to leverage their existing file storage assets within and across the borders of their organization. For more information, visit nextcloud.com or follow @nextclouders on Twitter.
Links
About Nextcloud: https://nextcloud.com/about
Release Graphics: https://cloud.nextcloud.com/s/Wa6Ec9mFRA5EWSD
Press contacts
Jos Poortvliet
Marketing Director
Phone: +49 (0) 171 121 7528
pr@nextcloud.com