Ride the "Cloud" and Cleave the Waves, CMI Unveils Innovative Cloud-Network Solutions at mCloud Summit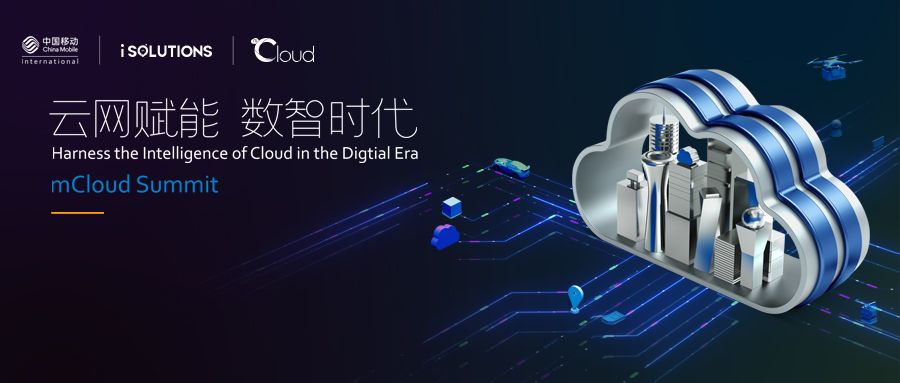 China Mobile International Limited (CMI) held its first mCloud Summit on May 28, 2021. Over 2800 international business leaders, enterprise customers and partners attended to learn more about how intelligent cloud transformation can propel enterprises to seize the opportunities in the digital-first era.
The event provided opportunities to explore mCloud's innovative Cloud Network integration solutions and new functionalities through expert insights and featured deep-dive discussions on emerging technologies including 5G+, the industrial internet, Internet of Things and blockchain. CMI appreciates the support from all its partners that make the new functionalities possible together with special trial offers to encourage enterprises to explore cloud products and services.

Speaking at the Summit, Dr. Li Feng, Chairman & Chief Executive Officer of CMI, said: "To tackle the challenges in digital resource reorganization, CMI launched mCloud, intelligent digitalization service platform integrating 'network, cloud and DICT'. In the past two years, CMI has worked closely with the top-notch cloud service providers to create an ecosystem, fully empower enterprises to expand the international market, by offering secure, convenient, and well compatible services. Our times call for digital transformation. Due to the pandemic, digitalization is accelerating globally, especially in production and living and in digital infrastructure development. The process of 'Intelligent Digitalization' is vibrant. CMI will continue to consolidate 'new infrastructure', join hands with global partners to establish an ecosystem, promote innovation and integration and empower the industry development. CMI will dedicate to cooperate with you all for an 'Intelligent Digitalization' future!"
CMI emphasizes flexibility and customization through integrated solutions that help enterprises navigate the uncertainties of digital transformation and achieve seamless and secure global expansion. Introduced in May 2019, CMI mCloud enables enterprises to seamlessly deploy, manage and monitor their cloud-network services and other enterprise products around the world. CMI innovative cloud network solution, CMICN, provides enterprise customers with technical and commercial flexibility by integrating network capability and cloud services. To build a cloud network ecosystem and cross-border multi-cloud platform, CMI collaborates closely with industry service providers and enables extensive cloud connections and application acceleration via more than 80 Cloud Connect points of presence (PoPs) worldwide. Currently, it features more than 160 direct network-to-network interfaces (NNIs) with world-leading cloud service providers.

Through mCloud, CMI provides enterprise customers with cloud network solutions, leveraging its extensive digital infrastructure globally. As one of the largest global operators, CMI has more than 70 international cable resources, including 9 self-built submarine cables and 8 invested terrestrial cables, with the global transmission bandwidth exceeded 97T. As well as its 80 Cloud Connect PoPs, it has 180 overseas PoPs across key continents, along with four data centers and over 8,000 racks.

mCloud enhancements elevate the enterprise cloud experience
CMI continues to strengthen its cloud partner ecosystem and deepen its partnerships with key industry players. By collaborating with more than 20 world-leading cloud service providers, including AWS, Alibaba Cloud, Baidu AI Cloud, Google Cloud, Huawei Cloud, IBM Cloud, Microsoft Azure, Tencent Cloud and UCloud, CMI provides comprehensive multi-cloud and hybrid-cloud solutions to customers.

CMI has added CloudSMS and Application Acceleration Network (AAN) services to mCloud, bringing the total of cloud-network products on the platform to five, alongside Cloud Connect, Multi-Cloud Service and SD-WAN. It has also recently upgraded the mCloud portal to provide a fast and easy way for enterprises to order, manage and monitor a host of cloud services from a single interface. The portal also supports intelligent and automated delivery of services and provides data visualization and smart recommendations for enhanced planning.

CMI further extended the mCloud platform at the Summit with the launch of the IoT Marketplace. It features five product categories including IoT module, IoT SIM, OTT Box and Dongle, smart home as well as smart sensor and meter. A one-stop shop, IoT Marketplace makes it possible for enterprise customers to select, purchase and rapidly deploy IoT products and solutions that meet their business needs.

The mCloud Partner Program also continues to expand to support the digital transformation of vertical industries. It is open to both consulting and technology partners. Consulting partners leverage CMI infrastructure to bring their own applications and services to end users. The program currently has more than 100 consulting partners from 18 countries, with specialist solutions for 20 different industries. Technology partners leverage CMI infrastructure to build new products and bring them to market to meet customer needs.

Looking ahead, CMI will focus on building a smart cloud-network globally, optimizing the ability of intelligent management, expanding the coverage of global CMI gateways and enhancing the cooperation with cloud service providers. CMI will remain committed to creating a cloud-network ecosystem with mutual-benefit and upgrading "Network + Cloud +DICT" services capabilities to provide enterprise customers with intelligent integration online services.
Special offers extended
To celebrate mCloud Summit, CMI has curated a series of free trials and special offers that enable enterprises to explore cloud products and services, including one-stop connectivity, data center and IoT services and CloudSMS, SD-WAN and AAN solutions. These are available to enterprises until June 20, 2021. Visit CMI mCloud for details.