Seagate Shows Dual-Actuator Speed Gains in Real-World Setup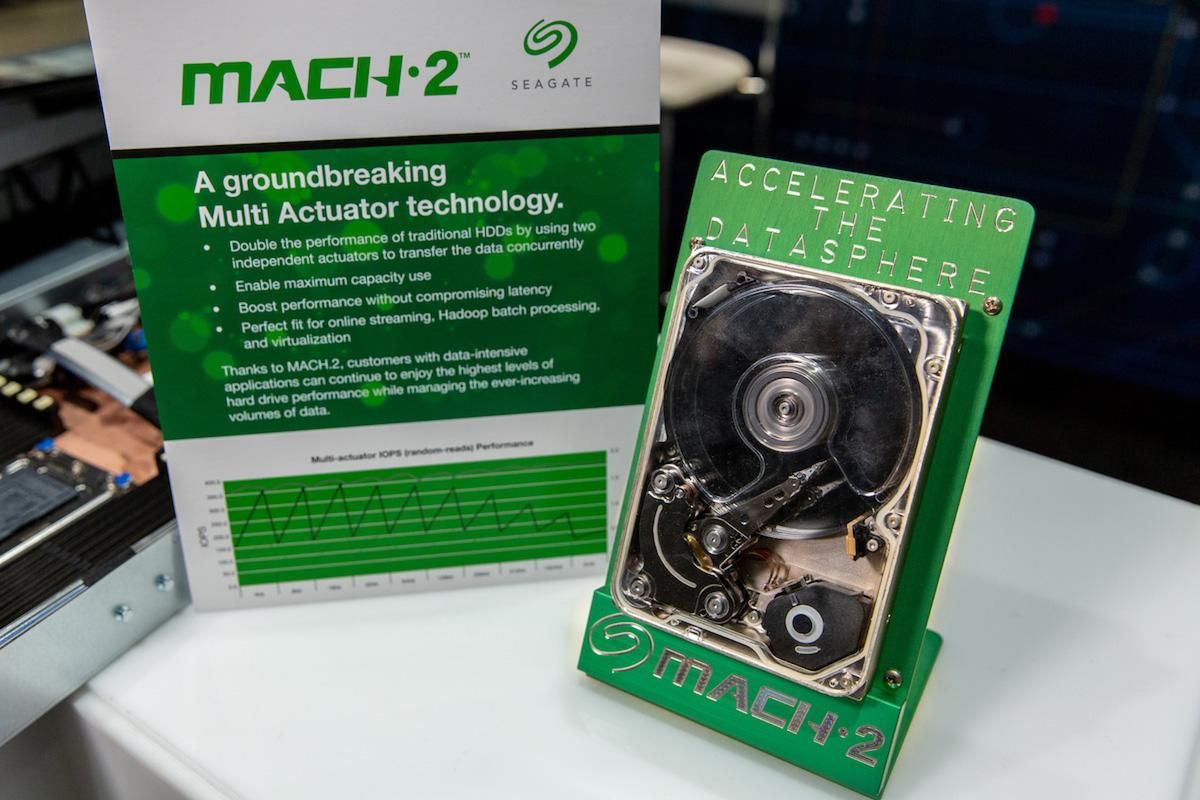 Seagate's advanced technology engineers have broken new ground by demonstrating a fully functioning hard drive using Seagate's breakthrough MACH.2 dual-actuator technology managing multiple sequential streams — using a standard SAS Host Bus Adapter (HBA), plugged into a standard slot, with no special setup.
In this demonstration, our MACH.2 dual-actuator technology was deployed in a pre-production Seagate Exos nearline enterprise SAS drive. The demo took place at this year's OCP (Open Compute Project) Summit, which drew more than 3,400 engineers, developers and decision makers who are working to advance and support the open hardware ecosystem in and around data center environments.
"This demo demonstrates the performance advantage of the MACH.2 technology in a Seagate Exos hard drive, over the performance of a single-actuator Exos," says Seagate principal engineer Tim Walker.
"In this case, our workload is multiple sequential streams — for example, video streaming," Walker continues. "We did not have to use any different hardware — it plugged into a standard SAS HBA, to a standard slot."
The demonstration uses two disk arrays: "One array is four MACH.2 drives, one array is four standard single-actuator Exos drives," Walker explains. "We load these arrays with as many of these sequential streams in parallel as they can manage and still maintain the minimum bandwidth quality of service. In this case, we're looking at four megabytes a second, which is a nice high quality video stream you might see at home."
"The MACH.2 drives support about 230 parallel streams, and the Exos about 130 streams — which matches pretty closely to our theoretical two-to-one performance advantage at the micro benchmark level," concludes Walker.
Seagate's MACH.2 dual-actuator technology doubles the performance of traditional hard drives by using two separate actuators that independently seek, access, and transfer data to the host computer concurrently. Seagate's MACH.2 technology has previously set a hard drive speed record, demonstrating up to 480MB/s sustained throughput — the fastest ever from a single hard drive, and 60 percent faster than a 15K drive.
"It was designed for our customers who have IOPS-per-terabyte quality-of-service requirements that can no longer be met by single-actuator drives, especially as we continue to push our capacity increases moving on into HAMR," says Walker.
At the event, Walker and Seagate principal cloud architect James Borden showed Seagate's pre-release MACH.2 technology Exos hard drives in action, and provided an overview of the architecture, performance, and power characteristics of MACH.2 and its applicability in hyperscale environments.
MACH.2 is ideal for data-intensive applications in hyper-scale data centers.
The team's solid operational results shows our continued progress toward delivering MACH.2 multi actuator technology in the near future in Seagate Exos enterprise hard drives. As our customers and partners work with Seagate to prepare to deploy both HAMR and Seagate's MACH.2 dual-actuator enabled hard drives, several partners have publicly displayed these advanced technologies in demonstrations with their own technologies.
"We have several partners that are looking at these, evaluating these in their systems — both in some sequential workloads, and some tough random workloads like for email servers," says Walker. "Feedback has been really good. It honest to goodness is 1.8 to 1.9 times the performance in a real-world workload, without any gimmicks or complicated or brittle setup. It really is drop-in double the performance."