11 Oct 2023
Synology showcases enterprise-level products and solutions at Cloud Expo Asia 2023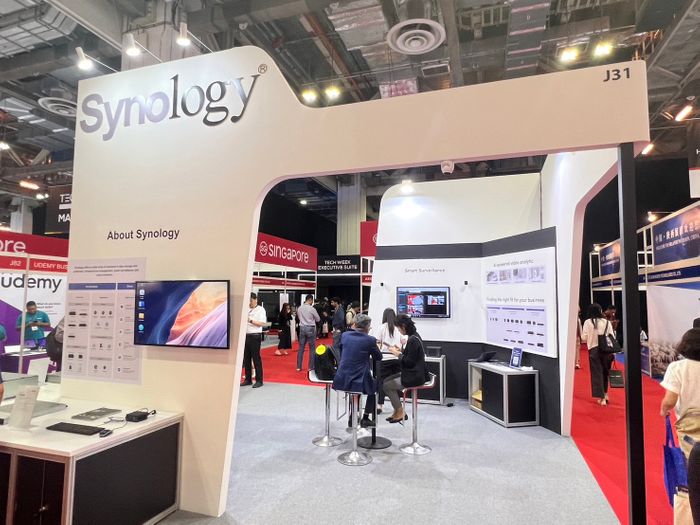 Singapore - October 11, 2023 - Synology showcases enterprise-level products and solutions at Cloud Expo Asia 2023, covering storage devices, data protection, cloud, and smart surveillance solutions. Trusted by over 150,000 enterprises worldwide, Synology aims to help businesses expand the value and scope of their data by providing cost-effective, IT-friendly, and secure business solutions.
Thachawan C., Regional Sales Manager of Synology, said, "In an era where data demands are growing rapidly, IT manpower is relatively tight, Synology's solutions can be the best support for enterprise data management."
Storage that meets enterprise needs
With the advent of new technologies like generative artificial intelligence, the need for data storage and management in enterprises has grown. Synology is introducing more storage devices suitable for enterprise scenarios, including the SA6400 for future expansion and the HD6500 designed for PB-level storage needs.
In addition to its comprehensive range of solutions, Synology is well-prepared to address tasks demanding efficient and swift responses, including virtualization environments, big data analytics, and deep learning. With the incorporation of the latest 7.2 version of DiskStation Manager, businesses are empowered to leverage a suite of advanced tools. These tools include immutable snapshots and the Adaptive Multifactor Authentication (AMFA) mechanism, enhancing data security measures. Synology equips enterprises with the confidence to deploy systems seamlessly, catering to the diverse operational needs of every organization.
Comprehensive data protection solutions
With the frequent occurrence of cybersecurity incidents, establishing a solid protection line is a critical task for businesses. Synology offers the license-free Active Backup for Business backup package, providing comprehensive protection for computers, virtual machines, and servers within the organization. It can also extend to full protection for SaaS services like M365 and Google Workspace. With mechanisms like data verification and automatic repair, this ensures that businesses can quickly and accurately restore their operational systems in the event of a disaster.
Synology C2 covers various practical services that meet enterprise security considerations when migrating to the cloud. This includes C2 Object Storage for object storage and C2 Identity for easy IT management team authentication. Additionally, when organizations use Active Backup for Business and backup to the cloud using C2 Backup, the 3-2-1 backup principle is effectively achieved.
End-to-end smart surveillance system
Besides protecting critical business data, Synology also provides an end-to-end surveillance solution to help enterprises easily safeguard their physical assets. This includes intelligent surveillance, a simplified multi-site deployment VMS system in Surveillance Station, and highly expandable storage devices or TV wall solutions, addressing common pain points in deploying surveillance systems for enterprises.
In addition, with the newly launched Synology Camera, which features high-quality, stable, 24/7 recording and built-in AI recognition, organizations can detect people, vehicles, and space intrusions. Using Instant Search, they can quickly review people, vehicles, and moving events in specific areas after an incident. Organizations can also integrate third-party systems, such as facial recognition combined with access control systems or license plate recognition combined with parking lot billing systems, to send relevant information to Surveillance Station for centralized management.
Thachawa stated, "Whether enterprises are looking for storage, data protection, cloud, or surveillance solutions, we believe that everyone can find secure, user-friendly, and cost-effective solutions from Synology booth at Cloud Expo Asia 2023."
Synology at a glance
Staying at the forefront of data management, Synology innovates and adapts to ever-evolving technologies, and continues bringing new possibilities to the table, including but not limited to solutions for data storage and backup, file collaboration, video management, and network infrastructure – all designed with one goal in mind – presenting a centralized platform to simplify IT administration while driving digital transformation for businesses worldwide. For more information, kindly visit: https://www.synology.com/en-sg