20 Sep 2023
SysCloud to Showcase SaaS Data Protection Capabilities at the Cloud Expo Asia 2023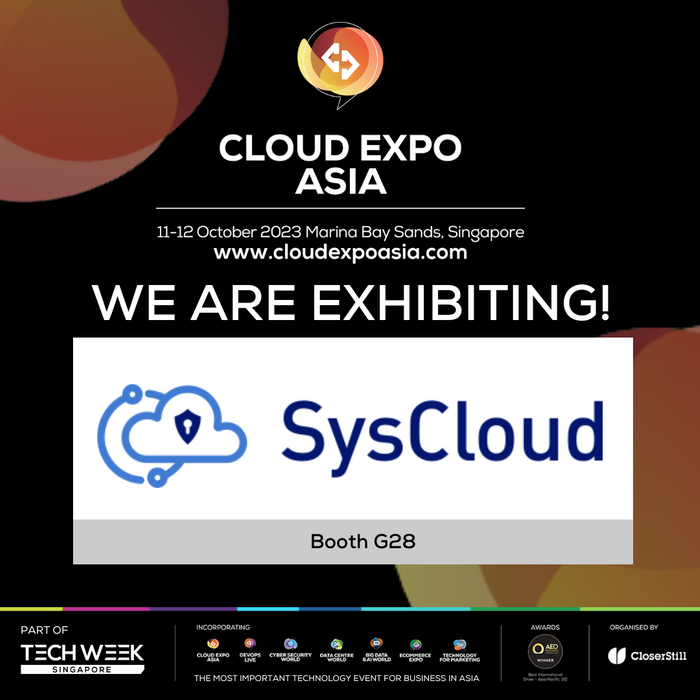 SysCloud offers IT administrators of cloud-native businesses a single pane of glass to not only backup SaaS data but also manage eDiscovery, recover from ransomware attacks, and identify data compliance gaps. The platform supports critical SaaS applications such as Google Workspace, Microsoft 365, Salesforce, Slack, HubSpot, QuickBooks Online, and Google Classroom with plans to add support for dozens of other SaaS applications in the coming months.
Data secured by SysCloud is encrypted and stored on fault-tolerant AWS cloud to provide customers instant access to their data any time. The company is SSAE18 SOC2 and GDPR compliant.
In addition to exhibiting at the Cloud Expo Asia event, Annu Sabu Palathingal, SysCloud's Associate Director of Product Management, will be speaking about the often-overlooked data security challenges with third-party SaaS applications. Annu will share insights on potential SaaS data loss risks and actionable strategies businesses can deploy to secure their data. 
Talking about SysCloud's participation at Cloud Expo Asia, Vijay Krishna, CEO of SysCloud, said "SysCloud considers the Asia Pacific region a key future market for our continued growth. Having established ourselves as a leader in the SaaS data security market in North America, we believe we have the track record and value proposition to assist resellers and customers in Singapore and Asia Pacific to accelerate their digital transformation journey with confidence."