13 Jul 2022
5 Ways Governments and Businesses Can Go Green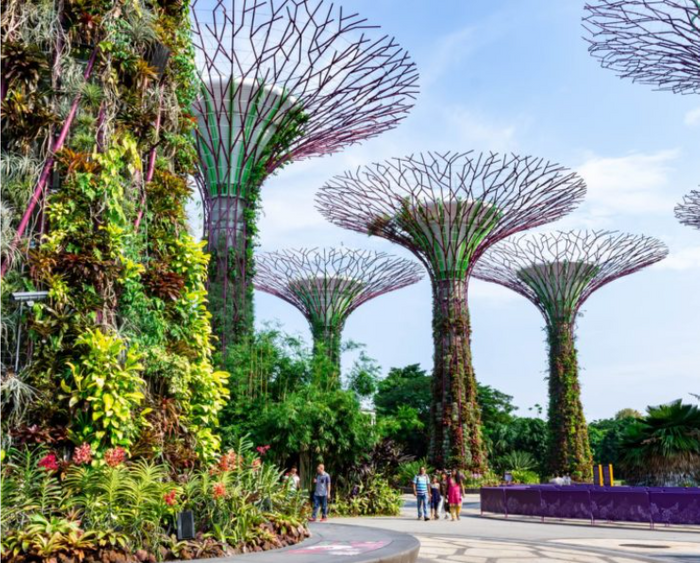 Record-setting rises in global temperatures, atmospheric CO2 and sea levels have sounded the alarm on the global climate emergency. Governments and businesses have come under the spotlight because of their combined scale and influence. As they have the ability to take the lead in steering policies and voluntary action, governments and businesses are in a unique position to fight climate change on the political, societal and economic fronts.
To help reverse the potentially devastating effects of climate change, here are five areas of focus that both private and public organizations can consider and act upon.
1. Invest in zero carbon energy
Using energy that doesn't produce carbon in the first place is one of the most effective ways of reducing carbon emissions. According to the World Economic Forum, more than 130 countries have set or are considering a goal of net-zero emissions by 2050. Global efforts are also ramping up as US$755 billion was spent on deploying low-carbon energy technologies in 2021, a 27% increase from the year before.
At Equinix, our commitment to sustainability has included a US$3.7 billion investment on sustainable projects and the goal of powering our more than 240 data centers and future sites with 100% renewable energy by 2030. Progress to date includes powering our US data centers using low carbon hydrogen fuel cells and electricity from Texas and Oklahoma wind farms, with additional plans to buy energy from a Finland wind farm in 2022. Our Singapore data centers are 100% powered by renewable energy since 2020.
Equinix has also partnered with six companies to invest €2.5 million (US$2.8 million) in developing fuel cells powered by green hydrogen to significantly reduce carbon emissions from powering data centers.
2. Innovate to improve energy efficiency
Beyond zero carbon energy, investing in new ways of saving energy is another critical focus area.
Over the past decade, Equinix has invested more than US$130 million in energy efficiency upgrades. To augment ongoing efforts to reuse heat, conserve water and recycle used equipment in our data centers, we launched an Energy Efficiency Center of Excellence in 2020 to improve cooling measures and fuel cells for our data centers. At our Helsinki data center, coal-fired generators were replaced by low carbon fuel cells and excess heat was channeled to warm 12,000 nearby homes in winter.
In 2020, we partnered with other European data center providers and trade associations – represent over 90% of the industry – to form a climate neutral pact. This initiative will support the transition to a climate-neutral Europe through improving energy efficiency, buying clean energy, and reusing heat, equipment and water.
In sunny Singapore where heat reuse is less necessary, Equinix is exploring opportunities with universities to develop other energy saving methods. A promising venture is blue carbon, the carbon stored in coastal and marine ecosystems. Mangroves, for instance, have high carbon capture rates, which is useful for reducing overall net emissions.
3. Provide quality data to empower consumers
Mindful that quality information can shape decision-making, Equinix releases Green Power Reports detailing customers' individual carbon footprints as this enables them to track their progress against sustainability goals and make responsible consumption choices.
Our data centers in Singapore also provide a tool that displays real-time environmental data, such as power consumption levels. Companies can monitor their carbon footprint and react accordingly, such as by identifying overworked servers and redistributing workloads.
Similarly, Singapore enables its residents to track their electricity usage using a mobile app and a carbon footprint tracker developed by Singapore's electricity provider, SP Group, with support from the Energy Market Authority and Ministry of Sustainability and the Environment.
4. Encourage resource sharing
"Every house wants a swimming pool of their own. Can we have a shared swimming pool instead?" is an idea worth considering. Pooling resources provides an effective way for public and private sector organizations to minimize consumption. Organizations can consider renting data servers from a shared facility rather than building and maintaining their own data centers.
When everyone practices responsible consumption and looks for ways to share resources, our collective efforts will help to reduce our overall environmental impact.
5. Net zero starts from ground zero
On the most fundamental level, organizations can start to reduce emissions by collaborating with its suppliers and customers to find ways of driving sustainable transformation across their value chains.
The Singapore government has encouraged its agencies to buy sustainably since 2006. The Civil Service has since moved towards only buying paper products certified with The Green Label, Singapore's environmental standard and certification mark.
At Equinix, we partner with top suppliers to engage with those responsible for 66% of our Purchased Goods and Services and Capital Goods supplier-related emissions, to set their own science-based targets by 2025. Equinix is also targeting to be climate neutral and to reduce supply chain emissions from fuel and energy-related activities by 50% by 2030.
Our commitment to work through our supply chains to reduce carbon emissions is expected to achieve an overall net positive effect on the environment.
Prioritizing your sustainability journey
To quote Chinese philosopher Lao Tzu: "A journey of a thousand miles begins with a single step."
Governments and businesses can lead the charge to protect the environment by embarking on these five strategies. No action is too small if it contributes to building a more resilient planet and ensuring that future generations can enjoy our world as previous generations have.