28 Sep 2022
Addressing Data Transformation Challenges at Big Data & AI World 2022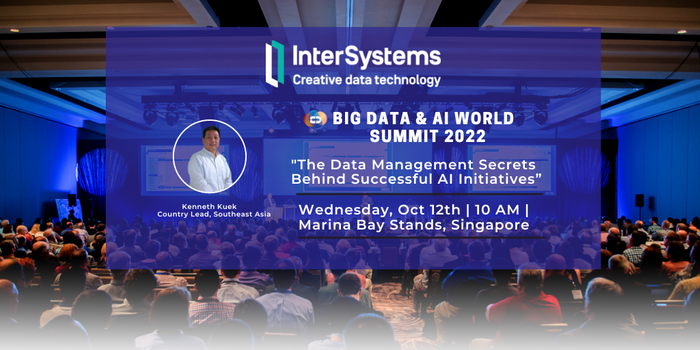 87% of APAC financial services organisations frustrated by data in driving decision-making
Creative data technology provider InterSystems to share insights on data transformation
and how to unlock its true potential
Big Data & AI World - Asia's most anticipated big data, analytics and artificial intelligence event
SINGAPORE, 28 September 2022: While businesses are focusing on improving operational efficiency, they are struggling with messy data in disparate silos, shifting regulatory environments and governance priorities. 87% of Asia-Pacific (APAC) financial services organisations are frustrated trying to use their data to drive decision making, according to InterSystems' latest study "The Top Data and Technology Challenges in Financial Services Across Asia Pacific".
This major concern will be addressed at the Big Data & AI World 2022 event held on 12th to 13th October 2022 at Marina Bay Sands, Singapore. It is the 5th edition of Asia's most exciting big data, analytics and artificial intelligence event. The award-winning event connects data and AI innovators, technologists, and business leaders, to help make data-driven decisions and intelligently shape their business.
Many Asia-Pacific (APAC) companies are trying to transform into data-led organisations. However, it is proving far more complicated than their leaders expect and delivering the right data to support critical business needs is becoming increasingly challenging. Volumes and varieties of data are often spread across multiple systems within a business and may be stored in inconsistent formats with different naming conventions. The main challenges are making sure the data gathered is accurate, making sense of it and turning it into practical and innovative solutions.
Kenneth Kuek, Country Lead at InterSystems, Singapore will address these issues in his keynote presentation entitled "The Data Management Secrets Behind Successful AI Initiatives". He will share insights on data transformation and how organisations can unlock its true potential to innovate and become more productive and agile.
"Everyone is talking about being data-led but very few are actually able to practice data-first decision making. While many institutions across APAC strive to give their best value to customers and would like to respond promptly to critical business needs, they struggle with data silos and outdated data," said Kuek.
Based on the same InterSystems' survey in 2022 with business leaders of financial services across the APAC region, 98% of organisations recognised that there are data and application silos within their organisation but when it comes to priorities, only 54% are looking to master data management in the next 12 months across APAC.
"This impacts their business significantly more than most companies realise, because leaders don't have real-time information, hence need to make assumptions. It also makes is difficult for them to have a clear view of enterprise-level risk. Dysfunctional data management also mean loss of competitive advantage and difficulty in complying with rapidly changing data regulations," he highlighted.
To complicate things further, many companies in the region paradoxically want more data while already struggling with current data management.[1] APAC is set to be the fast-growing economy at the forefront of the global digital landscape with data transformation a key driving factor. But the risk is instead of offering a competitive advantage, data becomes a burden due to various barriers. These including data skills gaps, data silos, manual processes, business silos, and data privacy and security weaknesses.[2]
"However, within these challenges lies an opportunity. Building an ecosystem that is truly efficient and transforming the way businesses use data will unlock their full potential. The first three steps to prioritise in data transformation is to replace legacy systems, gain access to real-time data and improve regulatory compliance," added Kuek.
Participants of Big Data & AI World 2022 can find out more on solving data transformation challenges at Kenneth Kuek's keynote address at the AI theatre session on the event's first day. InterSystems is a provider of next-generation solutions dedicated to helping customers solve the most critical data challenges.
On the event's first day, Kuek alongside Bryan Hoon, Sales Engineer from InterSystems, will be conducting a 60-minute interactive workshop on "How Next Generation Architectures Are Driving Trusted Business Insights and Innovation". They will walk participants through some of the largest projects that InterSystems are working on to unify multiple data sources, bringing complete visibility in real-time to teams when they need it the most to make strategic decisions.
Catch InterSystems' speaking sessions at the Big Data & AI World 2022 and register now at www.bigdataworldasia.com
-ENDS-
About InterSystems
Established in 1978, InterSystems is the leading provider of technology for critical data initiatives in the healthcare, finance, manufacturing and supply chain sectors, including production applications at most of the top global banks. Its cloud-first data platforms solve interoperability, speed, and scalability problems for large organizations around the globe. InterSystems is committed to excellence through its award-winning, 24×7 support for customers and partners in more than 80 countries. Privately held and headquartered in Cambridge, Massachusetts, InterSystems has 25 offices worldwide. For more information, please visit InterSystems.com
About Kenneth Kuek
Country Lead, InterSystems, Singapore
Kenneth is an experienced data management expert with a focus on Financial Services. He has spent the past two decades building and managing FinTech organisations and is an active member of the local FinTech community, regularly speaking at events and offering mentor ship to young startups. His industry knowledge and understanding of digital transformation make him a highly sought after thought leader.
He devotes a considerable amount to charitable organisations as a volunteer to help set up new training to help people with disabilities be able to work in IT roles. Kenneth is a driven and thoughtful advocate for opening up opportunities through technology for people who may not have had access to them befor
---
[1] https://www.dell.com/en-my/dt/perspectives/data-paradox.htm
[2] https://techwireasia.com/2021/09/apacs-struggling-with-data-management-despite-wanting-more-data/