27 Sep 2022
CloudMile Hosted its first Data Lab Conference in Singapore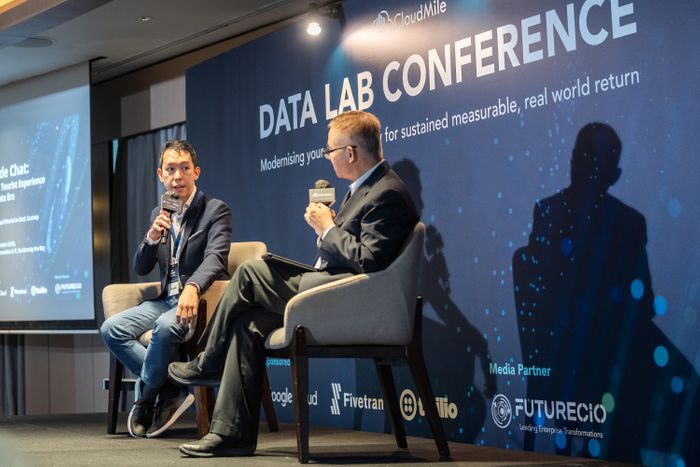 Leading experts from Google Cloud, FiveTran, Twilio Segment, and Gardens by the Bay share industry insights on realising the full potential of digitalisation.
Singapore, 2022 – CloudMile recently hosted its first Data Lab Conference in Singapore since the establishment of its headquarters in the country in 2021. The event gathered 60 attendees as well as 10 business leaders and industry experts to discuss end-to-end data strategies and share best practices in maximising the value of data assets, bringing in-depth insights into the role of data modernisation in enhancing customer experience.
A leading AI and cloud technology company, CloudMile supports the digital transformation of leading Singapore enterprises and government organisations and has made a US$14 million investment in establishing an AI Hub in Singapore. With unprecedented growing demand for digitalisation from clients in Southeast Asia, the conference was a timely way to bring industry experts together to share their knowledge of data-driven strategies and best practices.
In a keynote titled The Future of Data, Jeremy Heng, Country Manager of CloudMile Singapore addressed the most relevant issues of the day, highlighting how Singapore enterprises can capture, use, and truly benefit from data.
"Since the start of the pandemic, 60 million new digital consumers joined the Internet economy in Southeast Asia. Yet, according to Harvard Business Review, only one in five companies in the region considers itself as analytics sufficient," said Jeremy. "Data is projected to grow at 30 – 40% annually, unlocking new value streams for businesses that they have never experienced before. Therefore, it is important to have a clear data strategy as the key to successful data capitalisation. I'm honoured to have so many of our trusted partners and customers joining me at the conference, sharing valuable insights and knowledge to collectively realise the full potential of digitalisation," Jeremy added.
The conference was also graced by the attendance of Bryant Kok, Director (CIO), Digital Transformation & IT, Gardens by the Bay, who shared how Asia's premier horticultural destination is using data to deliver sustained engagements.Gardens by the Bay has chosen CloudMile as their Enterprise IT Partner in early 2022.
"Gardens by the Bay has enthralled and entertained over 50 million visitors since opening in 2012. To create memorable customer experiences, it was essential for us to adopt a data-driven strategy to operate sustainably and to offer innovative installations to our visitors. We've been leveraging Google Cloud to help drive that vision and coupled with our existing Internet of Things (IoT) adoption, we are confident in transforming the experience at the gardens to new heights," said Bryant.
E-commerce Growth Spurred by Digitalisation
Since the start of the pandemic in early 2020, e-commerce in Southeast Asia has gained an extra 70 million online shoppers. Recognising customer experience as a competitive advantage in every industry, CloudMile works closely with Google Cloud, Fivetran, and Twilio Segment to harness the power of data analytics, elevating customer experience.
"Fivetran is a technology company that automates replicating data into cloud data platforms. The pace of commerce, and the corresponding expectations of customers, demands that access to data be as simple and reliable as flicking on a light switch." says TJ Chandler, Managing Director APAC, Fivetran. "Hand-built APIs and even configurable data integration tools can no longer keep up with the variety of data sources and complex security requirements that leading e-commerce businesses need. Data plays a crucial role in customer success. Bringing customer data together allows teams to analyse and draw insights to keep customers happy, help upsell product features and reduce the risk of churn."
Twilio Segment is a customer data platform that unlocks and unifies real-time customer data and delivers personalised, engaging communications. Twilio operates on fast and trustworthy data-driven decisions and enables customer-first decisions with data you can trust. Twilio Segment's data and integrations provide in-depth data science, iterative product improvements, and hyper-targeted event-based communication.
For more information about CloudMile's partnership with Fivetran and Twilio Segment, please visit https://mile.cloud/company/partner