How CMI Global Resources Can Help Global Customers Accelerate Digital Transformation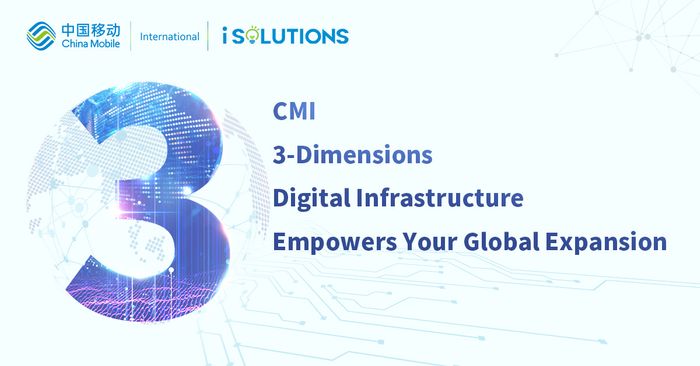 By 2024, more than 92% enterprise will use multi-cloud strategy, around 30% of all employees will work remotely, the combined internet-only enterprise connectivity from permanent home workers and branch offices will exceed 70% of all enterprise connectivity, which is an increase from 40% in 2020*.
How to embrace the emerging challenges and opportunities for enterprises now? Aiming at diversifying ICT infrastructure, CMI has developed our global backbone resources of 70+ submarine & terrestrial cables, 180 PoPs and 4 self-owned IDCs, with a total of 97T+ international transmission bandwidth, to help global customers accelerate digital transformation.
CMI 3-Dimensions Digital Infrastructure Empowers Your Global Expansion
· Highways: 70+ terrestrial and submarine cables with a total of 97+ international bandwidth transmission
· Stations: 180+ PoPs worldwide and 160+ leased lines from 10+ cloud providers, covering 124 major cities in 76+ countries and regions
· Islands: 4 self-owned data centers including Hong Kong, Singapore, London and Frankfurt
By leveraging CMI's Digital Infrastructure, not only enterprise can break through the problems facing with traditional infrastructure, but also enjoy cost advantage, swift operation model and flexible billing.
1st Traditional Infrastucture Limited
CMI Solutions

Separtion of cloud and network:

High communications costs to coordinate cloud network resources and interconnections with cloud and circuit service providers

By partnering with renowned cloud service providers (e.g., AWS, Microsoft Azure, Google Cloud, Alibaba Cloud, HUAWEI CLOUS, Tecent Cloud, IBM Cloud...etc,), CMI's cloud network resources have global coverage with 80+ Cloud PoP and 4 self-owned data centers to achieve seamless connectivity.

We offer one-stop, Multiple ways for enterprises to quickly access coporate headquarters, data centers and cloud applications

Worldwide cloud-network coverage
Interconnect with major cloud providers
Global Infrastructure Developments
Software-defined Cloud Network
Multiple Access Methods
2nd Tradaitional Infrastructure Limitation
CMI Sloutions

Slow service provisioning:

The delivery period of the circuit may reach 30-60 days

A muti-cloud platform that supports self-service ordering, automated rapid deployment, and visualized operation and maintenance. It enables customers to subscribe cloud network solutions and have SD-WAN end to end deployment within few days to weeks.
3rd traditional Infrastructure Limited
CMI Solutions

Inflexible business:

Long circuit contract period and traditional payment method

According to customers' requirement, CMI provides flexible contract period and online payment

Provide different packages in short term
Provide different contract periods in long term
Support different payment methods
Support different currencies
Ongoing CMI Global Infrastructure Developments
To provide global customers with seamless, carefree & borderless digital connectivity, CMI is striving hard in the following development:
· (NEW) 2Africa submarine cable to upgrade Africa's digital infrastructure
· (NEW) Frankfurt and HK2 to upgrade self-owned data center capabilities
· (NEW) H2H Hainan-HK submarine cable to help Hong Kong to become an Asia-Pacific Internet hub
To better support customers to cope with the cloud network trend, CMI will keep striving hard on global resources planning and expansion to support enterprise for smart, efficient and seamless connection globally.
Contact CMI Enterprise Business Team:
solutions@cmi.chinamobile.com
More information, please visit CMI iSolutions website:
https://isolutions.cmi.chinamobile.com/
* Source: Gartner (Apr 2021)