29 Jul 2022
Motadata to showcase the next gen AIOps and AI-ITSM Products at Cloud Expo Asia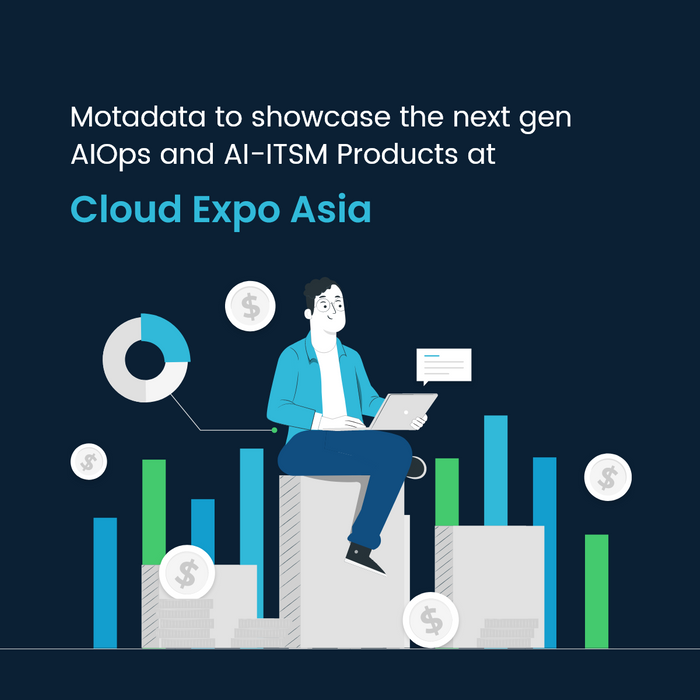 A recent Gartner survey revealed that 33% of technology providers plan to invest in AI within the next two years.
So, let's take a closer look at some of these trends:
The rapid maturity of AI orchestration initiatives means businesses can transition pilot AI models to production much faster.
The current AIOps tools can ingest various data, enabling businesses to discover new use cases and driver better insights.
With advancements in NLP (Natural Language Processing), the capacity to handle incoming ticket floods has dramatically increased due to virtual agents.
More companies are utilizing robotic automation to handle the increased velocity of data. This includes the no-code workflow capabilities that modern ITOps solutions provide.
Experience the Power of AI with Motadata ITOps Solutions
Motadata's AIOps and ServiceOps platforms enable I&O teams of enterprises to change how they approach data management and service management that shapes business decisions.
The platform leverages our proprietary DFITTM (Deep Learning Framework for IT Operation) for full-stack monitoring, analytics and service delivery across hybrid infrastructure powered by AI/ML.
Unified Monitoring for Hybrid Cloud Monitoring.
Organizations adopt hybrid or multi-cloud architecture to be resilient and gain control over their business applications and the data. Such a complex technology mesh can create blind spots for IT teams using legacy monitoring tools or dependent on consoles from cloud providers to peek into different environments separately.
Motadata aggregates traces, metrics, logs, network data, and more from the cloud and on-premises data centers into a single platform and solves the problem of not having complete observability with hybrid infrastructure.
AI Service Management with Motadata
Motadata ServiceOps is an ITIL compliant Enterprise Service Management (ESM)platform powered by AI. It empowers IT organizations to rapidly adopt changes across People, Processes, and Technology to significantly improve service delivery in the era of digital transformation.
It includes PinkVerify certified Service Desk, Asset Manager, and Patch Manager to streamline business processes across the organization without needing for third-party tools
Meet Motadata at Cloud Expo Asia in Singapore.
Motadata will be participating in Data Center/Cloud Expo Event in Singapore from 12th to 13th October 2022.
About Motadata:
Motadata is an Indian product company with customers across 25+ countries and different industries. We are recognized by leading analysts Gartner, IDC, Gigaom, etc. Our software is top-rated (4.4/5) on Capterra by Gartner and recognized as one of the fastest-growing technology companies (Ranked 34th) in APAC as per Deloitte Tech Fast 500.