06 Sep 2022
The most professional DevOps backup and Disaster Recovery software invites to workshop during Cloud Expo Asia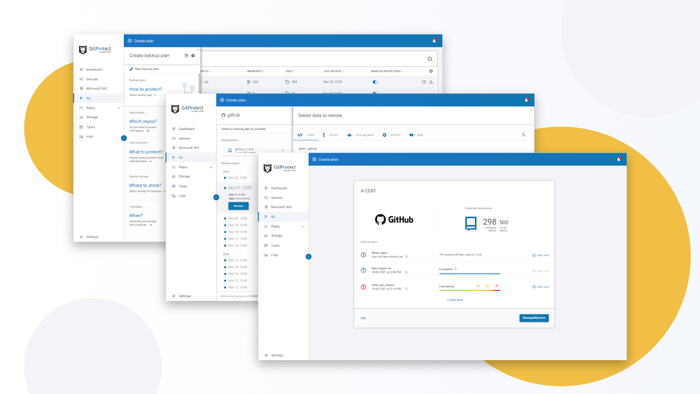 A leading global backup and recovery vendor, Xopero Software, is visiting Marina Bay Sands this October. The company wants to globally introduce its new brand - GitProtect.io - the most professional backup & Disaster Recovery solution for GitHub, GitLab, Bitbucket, and Jira data. Although it has been announced at the beginning of January, it is already providing repository and metadata backup to over 1K customers all over the world ensuring security to over 150K repositories.
6 reasons to backup DevOps processes
One of the hardest parts of being a leader is convincing the team and superiors that even if the code is hosted within such reliable companies like GitHub, GitLab, or Atlassian, it might get lost or unavailable.
Outages are one of the reasons. No service provider can ensure customers with 100% availability. This year of outages definitely belongs to Jira. But in June 2020, there was a major outage of the GitHub service that lasted for hours and impacted millions of developers. Before happened the biggest outages of GitLab service. The incident made it unavailable for many hours. They also lost some production data that they were eventually unable to recover. And it's just the tip of an iceberg…
Ransomware does not bypass Git users. In 2019 tech media reported that attackers were targeting GitHub, GitLab, and Bitbucket users, wiping code and commits from multiple repositories and leaving behind only a ransom note. It is worth mentioning that this year ransomware hits every 11 seconds!
Other reasons? Human mistakes (which are still one of the most dangerous risks), hardware failures, and natural disasters. All that happens more often than you can imagine.
Shared responsibility
Like most SaaS providers, also GitHub, GitLab, and Atlassian rely on shared responsibility models that define which security duties are handled by the service provider and which belong to the organization as a user. In short: cloud service providers are responsible for maintaining the infrastructure and making sure data is available and accessible while companies as users are responsible for protecting their GitHub, GitLab, or Atlassian data in general - safe processing, protecting, backup, and restore.
So, considering compliance and legal penalties (just to mention SOC2 or ISO 27001) - it is in companies' interest to back up their IT projects, Intellectual Property, repositories, and metadata.
GitProtect.io for GitHub, GitLab, Bitbucket, and Jira at Cloud Expo Asia exhibition.
Cloud Expo Asia exhibition is the best place that can unite all DevOps, cybersecurity teams, SaaS companies, IT-related people, and all those who are into cloud protection and data security. So exactly the group interested in protecting source code and Intelectual Property hosted within GitHub, GitLab, Bitbucket, and managed in Jira which covers GitProtect.io.
To boost consciousness among IT professionals about the security of the data, especially of their code, a team of Xopero Software and GitProtect is going to present their software and discuss potential threats and risks related to IT projects both in the official company booth (J21) and during the special workshop and speaking session.
WORKSHOP: Automatic backup and restore for GitLab, GitHub, Bitbucket & Jira for compliance and regulatory needs
13th of October, 15:15 - 15:55 at DevOps Live Workshop Theatre
SPEAKING SESSION: DevOps backup best practices for compliance and business continuity
13th of October, 13:00 - 13:20, DevOps, Containers, and Cloud Native Theatre
- Considering Intellectual Property value and GitHub's and Atlassian's emphasis on adequate data protection, we foresee that DevOps backup, in the footsteps of Microsoft 365, Google Workspace, or Salesforce, will become another, key data protection field - says Lukasz Jesis, Founder and CEO of Xopero Software and GitProtect.io - That's why we encourage all DevOps teams representatives to join our workshops and visit our J21 booth during Cloud Expo Asia this October.
For more information on Xopero Software, visit the official GitProtect.io product page.
About Xopero Software
Xopero Software has proven to be a professional, secured and affordable backup and Disaster Recovery software for endpoints, virtual machines, servers, Microsoft 365, and DevOps environments - GitHub, GitLab, Bitbucket, and Jira. For more than 12 years the company has helped to backup more than 1m devices globally and numerous enterprises entrusted their critical data to them and now can stay peaceful with the thought that it is in safe hands. Moreover, having successfully completed SOC 2 Audit, Xopero Software has helped IT-related companies to meet their security requirements. Xopero Software can boast of its partnership with ESET and QNAP, and in their portfolio, there are such famous brands as T-Mobile, Subway, Orange, and more.