06 Aug 2019
Rackspace's Asia Presence Expands with Hong Kong Office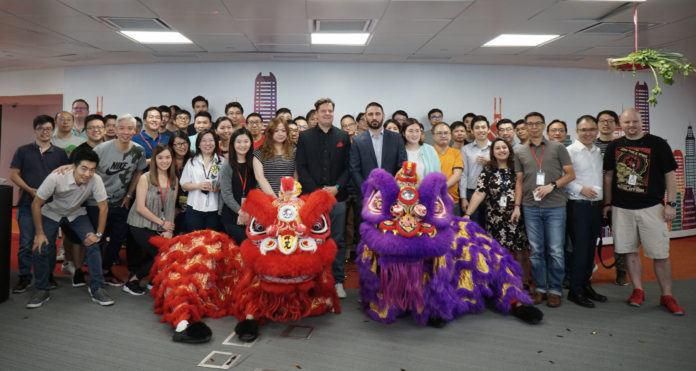 In Asia, the digital revolution is creating seismic change in the way industries such as retail, travel and hospitality, banking and manufacturing operate.
More than ever, the potential for growth and innovation in the region demands business leaders adopt the world's leading technologies to thrive in this increasingly complex, multi-cloud world.
That's why we're proud to announce the opening of Rackspace Hong Kong, a 12,000-square-foot office space with an amazing view of Victoria Harbor. I was honored to attend the opening festivities, which featured local customs related to office openings, including the lion dance for prosperity.
Driven by increasingly digital needs
The effect of digital transformation on Hong Kong's businesses is significant – it will add U.S.$9 billion to the country's gross domestic product over the next three years, according to Tech Wire Asia. This presents a tremendous opportunity for Hong Kong businesses seeking to adopt companywide digitization.
To do this, they need an experienced partner with the expertise to deliver unbiased but opinionated advice to guide their digital transformation journey. Luckily, the Rackspace Hong Kong office is home to a team of passionate, proactive and highly skilled experts who are committed to driving customer success by sparking innovation, faster go-to-market strategies and the ability to get more out of limited IT resources.
It's no coincidence that key players in the local scene, from aerospace, banking and payment services, have already partnered with Rackspace to enhance legacy IT solutions and get ahead of the competition.
Helping the technology and innovation agenda
Recently, the Hong Kong government pledged HK$50 billion to support innovation and technology development. This is exactly what Rackspace can help to drive, to help businesses embrace the power and value of the cloud. By expanding our presence, we now provide an even greater platform for businesses to work with our specialists to create a new level of achievement in their digital transformation journey.
Together with our key cloud partners — AWS, Google Cloud, Microsoft Azure and Alibaba Cloud — we're committed to helping businesses flourish by leveraging the power of the cloud.
We are proud to deliver local, proactive, always-on service and expertise with best-in-class tools and automation with these global giants, to help the entire ecosystem improve performance and reap results that matter.
Exciting times ahead
The Asia Pacific region is at the center of many exciting developments in technology and digital innovation. We believe this is only the beginning — technology will be an incredible enabler.
I would like to thank our Hong Kong Rackers for their passion and dedication in delivering our globally renowned 'Fanatical Experience' locally. And to our customers, thank you for believing in Rackspace and making us your trusted advisor.
I'm excited to see how our plans in Asia Pacific continue to unfold and evolve. Watch this space for more announcements and transformation projects across the region.