07 Oct 2022
Cloud Expo Asia 2022: Hybrid Cloud Strategies with Panasonic Asia Pacific's Geetha Gopal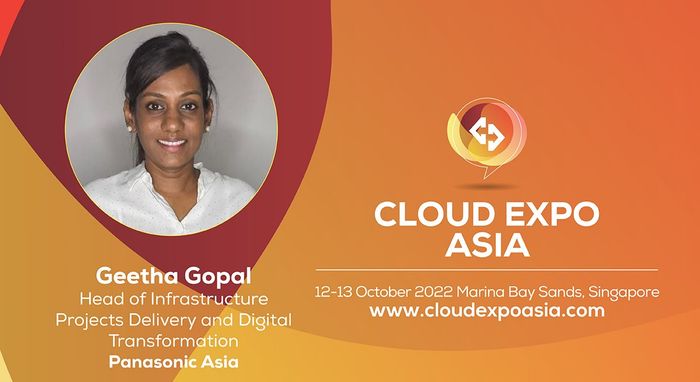 Panasonic Asia Pacific's Head of Infrastructure Projects Delivery and Digital Transformation, Geetha Gopal, shares her thoughts on the importance of prioritising cloud security and the best strategy for adopting hybrid cloud architectures.
Get your free ticket to hear more from Geetha at Cloud Expo Asia 2022 on 12-13 October.
Q: What do you feel is the biggest cloud computing challenge facing your industry within the next year? What impacts does this challenge have? And how can we overcome this challenge?
On top of the list is security, of course! As much as we strengthen our lines of defence proactively, there are new challenges coming up which need to be handled. Vulnerabilities, compliance, data integrity, administrative governance, to name a few. This is not just for cloud hosted offerings, it's across all models of computing solutions. Security challenges are closely followed by interoperability, which is complicated by many reasons like cost control, data integration, managing workloads across platforms, skill sets, and performance to name a few.
Both these challenges have a direct cost impact to our businesses. We see businesses investing more than ever before on security initiatives, proactive deployment measures, more stringent policies, to mitigate their unknown risks. Similarly, for increasing interoperability and seamless operations, we need to factor in additional investments other than cloud adoption or migration.
Security cannot be quantified in many cases, but that doesn't make it any lesser of a priority. Prevention is better than the cure! A good business case must also include interoperability costs. Informed decisions, relevant investments, proven technologies and right partnerships are the way forward.
Q: What cloud computing innovations or strategies do you think will most help businesses in the next year, and why?
The more bespoke the environment is, the more complex it gets. Whereas going for a native offering and single provider have the risk of being tied to a single solution or curbing innovation. Most businesses do not have the flexibility of moving data onto the public cloud and need to have a private or hybrid approach. This is not going to change drastically in the next year or two, due to increasing security and data regulatory considerations.
The most limiting factor for cloud adoption is unknown costs arising from interoperability requirements, and evolving landscapes. Application readiness is another factor which still holds applications back on private environments due to additional costs for businesses to get cloud-ready.
Businesses need tailored solutions at nominal prices. It could still mean hybrid solutions, with room for flexibility for businesses. This is a huge opportunity. Those providers who seize this opportunity continue to increase their volume in the long run, it's a give and take.
Q: When it comes to building a hybrid cloud strategy, where would you start and what are the key things you would prioritise?
This is what I am going to share in my speaking engagement on the 12th at Cloud Expo Asia!
To give you a nutshell, I suggest to start with the roots - the organisational strategy. In reality, we often see a mismatch between IT strategy and business strategy in the first place, which naturally doesn't align with overall the organisational goals. Only when this is aligned, does it become easy to understand and plan for the hosting strategy.
But no one size truly fits all. If an organisation is on a cost effective strategy or doesn't have the tolerance for disruption, then a more cautious cloud strategy is adopted. Whereas if there are sufficient investments for innovation, internal skill set upgrading and have specific targets needing speed and agility, then a hybrid or multi-cloud strategy is adopted.
We often get lost in the greatness of technology. Technology should aim to support business goals. However great a technology is, if it doesn't help the businesses to meet their expectations in sales or growth for example, then the investments become questionable. Though there could be several factors that contribute, it's important to identify business goals and draw out specific targets for technology to fulfil that will align both, for example double the bandwidth, half the price for the same functionality, and so on.
Q: What would be your biggest piece of advice for fellow Heads of Infrastructure and tech leaders who are looking to build a business case or adopt hybrid cloud technologies?
I find it easier to start from the basics. The three top priorities for me in every requirement I handle, in this order: people, processes, technology.
Businesses may not know what they need. It's up to us to assess, understand, recommend, and deliver appropriate solutions and technologies. Start with your stakeholder map, engage and keep your stakeholders warm. It makes all the difference.
While building business cases, it's important to align business need with applications, workload, migration complexities, and ensure to include all pieces of the tech puzzle, not just our own technology areas. Again, this is where wider stakeholder involvement is a boon. ROI is always questionable, many invaluable offerings cannot be quantified. Target legacies and pressing problems to influence investments.
Q: What do you feel is the value of in-person events like Cloud Expo Asia, and why would you encourage fellow business leaders to attend your panel session?
After months of being stuck to virtual events, it feels so refreshing to be in such in-person events. There is something about physical presence - you tend to absorb so much more!
This is my second event with CloserStill this year. The earlier one was Cloud Executive Summit in April. It was a time when physical events were slowly picking up, but I recollect there were 1000+ people who attended it. I expect even more members to benefit from this Cloud Expo Asia event, now that restrictions have further eased.
I'm excited and grateful for this opportunity to share my experiences and knowledge as a practitioner.
Geetha will lead a session on Hybrid Cloud Strategies - Adoption, Costing and Deployment at Cloud Expo Asia 2022, as well as a case study on The Role of Data and Integration in Increasing Innovation and Improving CX at Big Data & AI World 2022.
Secure your free ticket to Cloud Expo Asia at Marina Bay Sands on 12-13 October.
One ticket gets you access to six events, including Big Data & AI World, DevOps Live, Cyber Security World, and more!