07 Oct 2022
Cloud Expo Asia 2022: Hybrid Cloud Strategies with Integrated Health Information Systems' David Lim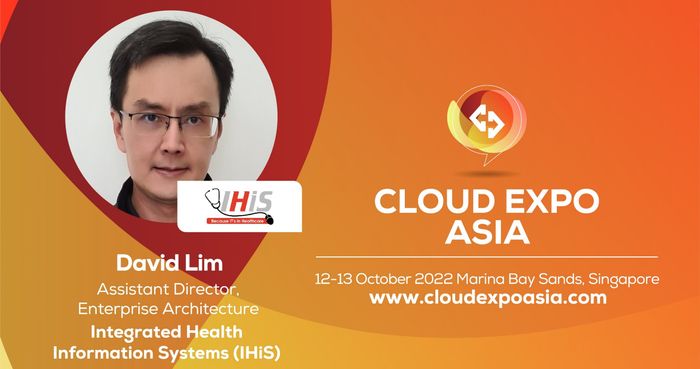 Integrated Health Information Systems' Assistant Director of Enterprise Architecture, David Lim, shares his thoughts on overcoming the challenges of adopting hybrid cloud architectures.
Get your free ticket to hear more from David at Cloud Expo Asia 2022 on 12-13 October.
Q: What do you feel is the biggest cloud computing challenge facing the healthcare industry within the next year? What impacts does this challenge have on you and your consumers? And how can we overcome this challenge?
Since adopting commercial cloud in 2014, IHiS has built up extensive knowledge and experience in using commercial cloud over the years. In the next year, IHiS is scaling our cloud adoption significantly to move more systems to the cloud to take advantage of its agility, scalability, and rapid innovation for our healthcare systems.
In adopting hybrid cloud, there are many challenges that need to be addressed such as identity, application integration, cybersecurity, governance and cost optimisation.
As the HealthTech agency for public healthcare, IHiS' priority is in securing our healthcare systems hosted in the commercial cloud, particularly on protecting the sensitive patient data stored in the systems to prevent against data theft. Singapore's Healthcare Commercial Cloud (HCC) was set up with all the necessary security posture to help our public healthcare institutions adopt the cloud easily and safely. In this controlled environment, we implemented centralised security services for protecting all the traffics coming in from the Internet and governance services to ensure all the HCC hosted workloads comply with our internal policies and standards.
Aside from security, another challenge that we see is the shortage of talents and scarcity of skillsets in cloud. To this end, IHiS is continually building and acquiring these skillsets to continue operating our hybrid cloud in an optimal way.
Q: What technological innovations do you think will most help the healthcare industry in the next year, and why?
There are many promising technologies such as VR/AR and quantum computing that have emerged in the recent years, and some of them may bring benefits to the healthcare industry.
Within the next year, I'd say that wearable technologies will most likely benefit the health of our patients and the Singapore population the most. Wearable technologies not only improve patient care, but also patient experiences. They provide clinicians with the ability to remotely monitor patients 24/7 in almost any care setting. This is especially important, as our public and private healthcare providers continue to expand their telehealth and home care capabilities to support the nation's Healthier SG initiative that aims to put a stronger emphasis on preventive care and pairing residents with family doctors to help them better manage their health.
Wearable technologies are more than just a monitoring tool. It provides a mobile platform capable of capturing and sharing patient data, to be sent securely to our backend healthcare systems for further processing and analysis. It also allows our patients and their families to spend less time in hospitals for care that can be delivered more economically in an environment where the patient is most comfortable.
Q: The ethos of IHiS is to make healthcare more efficient, more inclusive, more accessible, and safer for patients. How are you applying cloud technologies to ensure a digital health ecosystem that works for you internally and for patients?
Technologies play a very important role in our cloud adoption journey to support our healthcare services with agility, scalability, and flexibility. However, people and process play equally important roles as well. Without qualified people with the right skills and competencies, and streamlined processes, whichever cloud technology that we choose to use will not deliver the anticipated benefits.
In addition to having strong support and direction from the top management, we have cloud champions within IHiS with all the required cloud knowledge and experiences. Our cloud champions have the ability to communicate not only at the high level with the management, but also convey technical details to the engine room and principals, and in layman language with the business users.
Having a deep understanding of the overall business strategy and functional/non-functional requirements of our healthcare clusters, we are able to select and apply the appropriate cloud technologies that work. Cloud Service Providers (CSPs) provide tools that enable agile building to support gradual realisation and adjustment to what resonates and works best for the users and patients. There is also a rich set of tools, such as cognitive search, language understanding and translation, and machine learning that we can tap on quickly. Eventually, this comes back to IHiS' ultimate aim, which is to improve our population's health and health administration by integrating intelligent, highly resilient and cost effective technologies with process and people.
Q: When it comes to building a hybrid cloud strategy, where would you start and what are the key things you would prioritise?
When building our hybrid cloud strategy, we started by first making sure that we have the right foundation. Without a solid foundation, everything that we build on top of it will not be able to meet and withstand the changing demands. Hence, the team from IHiS' Chief Architect's Office started by establishing our architecture patterns, implementation standards, and design guidelines, aligned with our internal policies.
We had our Hybrid Identity Architecture patterns published first, as identity service is the most fundamental service that enables single sign-on experience across our cloud-hosted and on-premise workloads. Shortly after that, we published our Application Integration in Hybrid Cloud patterns. This pattern is crucial since we will need to integrate our cloud-hosted workloads with our existing mission critical systems which are sitting on-premise. By establishing this architecture pattern, our cloud-hosted and on-premise workloads are able to communicate securely and effectively, and our application workload can be seamlessly set up or migrated to the HCC environment.
With these and many more carefully crafted architecture artefacts, we were confident that our Healthcare Commercial Cloud fully complies with our stringent security policy which aligns to the standards set by the government bodies and authorities.
Q: What would be your biggest piece of advice for fellow Directors, Enterprise Architects and tech leaders who are looking to adopt hybrid cloud technologies?
To build a successful hybrid cloud strategy is a journey, and it is one that is challenging and exciting. In this journey, we must be prepared and adaptive, with willingness to learn, unlearn, and relearn. There is no one strategy that can fit all since every organisation has its own uniqueness in terms of environments, needs, constraints, and expectations.
One of the key success factors is to have proper and solid patterns, standards, guidelines, and policy in place, with cloud champions or better still, a cloud centre of excellence, within the organisation.
Q: What do you feel is the value of in-person events like Cloud Expo Asia, and why would you encourage fellow business leaders to attend your panel session?
It is always good to meet and network with other people of similar interests and experiences in-person, like at Cloud Expo Asia.
Listening to others share their experiences and lesson learnt can bring new insights and ideas.
I recently read a new book titled A Guide to Smarter Networking from Harvard Business Review. Attending events, meeting new people, building lateral networks, and listening to panel discussions are the top list of benefits. So, I welcome all to join me and fellow panelists in our session, Hybrid Cloud Strategies - Building A Better Approach from Adoption to Scalability.
David will be joined on the panel by Paolo Miranda, Vice President, Executive Committee at ISC2; Monika Kapoor, Head of Data Platform at Philips; Robert O'Donovan, Chief Financial Officer at Cohesity; and Ben Cooper, Chief Architect at OneQode.
Secure your free ticket to Cloud Expo Asia 2022 at Marina Bay Sands on 12-13 October.